Author Appearance at Carolina Renaissance Festival
Once more unto the breach! I will soon travel through time once more to Ye Olde Carolina Renaissance Festival outside of Charlotte, North Carolina. If you're anywhere near the area, it's well worth the trip. Not just for as many signed science fiction and fantasy books as you can carry, of course, but also for the turkey legs and other amazing food and [adult] beverages, hilarious performances, fun kids' rides, and just the fun vibe!
Signing Books at Carolina Ren Fest
Who: Me! And these other awesome science fiction and fantasy authors: Edward McKeown, Matthew Saunders, Laurie McKay, Anne Barnhill, Janine Spendlove, Misty Massey, John Hartness, Gail Z. Martin, A.J. Hartley, Darin Kennedy, and Nicole Kurtz
What: Signed copies of The Last of the Ageless at Time Travelers' Weekend at the Carolina Renaissance Festival
When: Saturday, November 12 & Sunday, November 13, 2016 from 10 am – 5 pm
Where: 16445 Poplar Tent Rd Huntersville, NC, 28078 (map)
How?
Parking: FREE on-site parking
Tickets: $23 or $24 for adults (see ticket info), and children ages 5-12 are FREE with a donation of school supplies at the Parent Teacher Magazine booth at the Festival entrance or at Park Road Books in Charlotte
Park Road Books will be selling my book, and I'll be there to sign it and personalize it with any message you choose. After all, paperbacks make great Christmas gifts!
See last year's post for more info on this topic.
Buy Tickets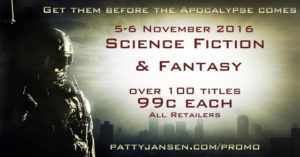 Over 100 Science Fiction and Fantasy Books for $0.99 Each!
There's a big sale going on with tons of awesome ebooks on sale, this weekend only! (That's November 5 & 6) These must-read books will give you something to remember this 5th of November!
Shop Discounted eBooks
Related Links