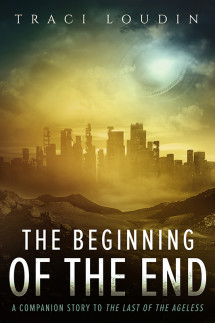 Available: Now
Formats: mobi (Kindle) and epub ebooks
Published by: Worldbinding Books
The Beginning of the End
Soledad is an Ageless without many friends left in this world. When one of them turns up dead, she's determined to find out what happened to him. But to unravel the horror of his murder, she must first survive the dangers of the wastelands as mutants chase her across the ruins of a fallen world. Friendless. Alone. Hunted.
This is a short story of approximately 19 pages, around 30 minutes to read. It takes place before the events of The Last of the Ageless, a post-apocalyptic adventure novel.
You can read it FREE today by joining the Vanguard (new releases newsletter).
Where to Buy It
And more, including Smashwords, Inktera, Bol.com, Hugendubel, and Tolino. Request it at your library through Overdrive. You can also read a ton of books and audiobooks for one low monthly price by starting a subscription at 24symbols.
The Series
You can read the short stories in any order, but the chronological order is:
Read It — FREE
Subscribers to the Vanguard get this and other FREE short stories set in the same universe as the novel.
Find out instantly when the new novel arrives. No spam — you decide how often I email you. You'll get early access to short stories, giveaways, and previews of upcoming works.
Join the Vanguard
FREE to subscribers: