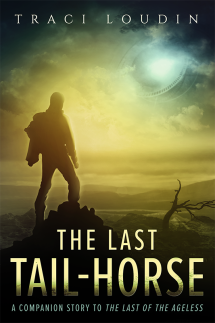 Available: Now
Formats: mobi (Kindle) and epub ebooks
Published by: Worldbinding Books
Read It for FREE
Get a Sneak Peek
Buy It on Amazon
Buy It for Apple
Buy It on Nook
Buy It on Kobo
Review It on Goodreads
The Last Tail-Horse
After the end of the world, a young shapeshifter learns to open his wings…
When Dalan discovers the last of a mutant species of beautiful, golden horses, he's forced to make a difficult decision.
This is a short story of approximately 8 pages, or 15 minutes to read. The Last Tail-Horse is a prelude to the novel, The Last of the Ageless.
The themes of brotherhood, maturity, life and death were well done. The significance of the geography and legends were captivating, and I loved the way the animal shifting works.
Ryan Toxopeus, author of A Noble's Quest and A Wizard's Gambit
You can read it FREE today by joining the Vanguard (new releases newsletter).
Where to Buy It
And more, including Smashwords, Inktera, Bol.com, Hugendubel, and Tolino. Request it at your library through Overdrive. You can also read a ton of books and audiobooks for one low monthly price by starting a subscription at 24symbols.
The Series
You can read the short stories in any order, but the chronological order is:
Read It — FREE
Subscribers to the Vanguard get this and other FREE short stories set in the same universe as the novel.
Find out instantly when the new novel arrives. No spam — you decide how often I email you. You'll get early access to short stories, giveaways, and previews of upcoming works.
Join the Vanguard
FREE to subscribers: