As usual, ConCarolinas was awesome. I learned a ton of fantastic writing and marketing tips from my fellow science fiction and fantasy authors, and even took part in a Rapid Fire Reading with the Broad Universe! I read from page 10 of The Last of the Ageless, when Dalan first gets himself into trouble…
Because this post will be long, I've decided to break it into two THREE parts. Part 1 covers most of Friday and parts of Saturday. Part 2 contains notes from panels on planning a trilogy, marketing, and how to end your story. And Part 3 will be my own reflections.
Part 1 Table of Contents
Rapid Fire Reading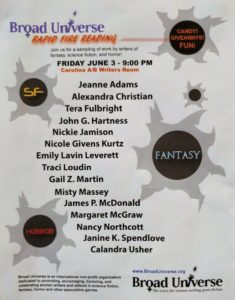 When Calandra Usher invited me to the reading and then reminded me it was at 9 pm Friday, I got the jitters. But Cali is awesome and she helped me pick the right scene for the reading!
I've only done one public reading before at my old high school. So this was pretty exciting for me, and what I hope is a taste of things to come.
Each member of the Broad Universe went down the line and read 3 minutes' worth of goodness from their latest work in progress or published novel. And when my turn came, I don't think I tripped over a single word. Or if I did, I probably skipped it.
Everyone had something awesome to read. Next year we're going to provide a list of works or pass around some sort of mailing list so people can find the stories they liked best.
I was just super stoked to see my name on a piece of paper with all of these fine folks. Big thanks to the Ardent Alliance for supporting my writing career and giving me the funding for membership with the Broad Universe!

The Broad Universe is an organization dedicated to the support of female science fiction, fantasy, and horror writers. That doesn't mean Broad Universe is strictly limited to female membership, however, and in fact we had male-identifying authors read on Friday. All speculative fiction authors who uphold the Universe's mission can join. See the FAQs.
Continue reading