Last Tuesday, I had my first ever appearance as an author! It was terrifying and exhilarating.
Homecoming
I graduated from Buckhannon-Upshur High School in 2003, so this event was a homecoming of sorts for me. I'd only been back once or twice post-graduation to pick up my siblings, but I knew to expect the odd mixture of familiarity and strangeness. So many things had changed, and yet so many remained the same.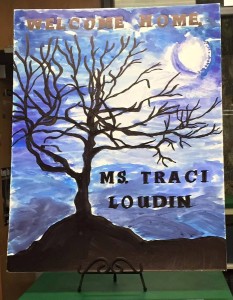 A few of the same: My former sophomore English teacher, Miss Cupp, brought some of her students in to hear me speak. And my former creative writing teacher, Ms. Ramsey Boyce, also brought her students in. Before the event, Ms. Ramsey Boyce had contacted me to tell me that she was reading my book and that so much of it seemed familiar. So although I have no doubt I've grown as a writer over the years, my voice is apparently much the same!
I was greeted by this wonderful hand-painted poster based on the cover for When All Is Lost. It's a very close representation of it! I'm amazed at the level of detail, and extremely flattered that Ms. Wager, the art teacher, would take the time to create something like this for me. It now resides in my office so I can see it while I write.
Continue reading