If you're like me, you like the idea of backing creative
Kickstarter
projects and getting cool stuff in return. But it's also hard sorting through Kickstarter to find projects specifically in the science fiction and fantasy genre. So I've gathered five active, ongoing speculative fiction Kickstarters in this post that I hope you'll find as interesting as I do.
SCI-FEST
By David Dean Bottrell
Kickstarter Link


What It Is: One-act play festival in Los Angeles


Goal: $80,000


Deadline: February 28


What You Get: For $5 you're acknowledged on the website


Summary: Two evenings of short sci-fi plays (sort of like mini Twilight Zone episodes). Among the original one-act plays will be the first-ever stage adaptation of Ursula K. Le Guin's classic tale of transformation, "The Wife's Story." Plus, a revival of Ray Bradbury's chilling one-act play, "Kaleidoscope." The creator David Bean Bottrell has appeared in TV series like Boston Legal, Justified, and True Blood.


Why You Should Back It: Because science fiction has almost never been seen in the stage play medium.

The Undergrounds: A Family-Fantasy-Adventure Series
By Geert Heetebrij
Kickstarter Link


What It Is: Children's comic series, 9 issues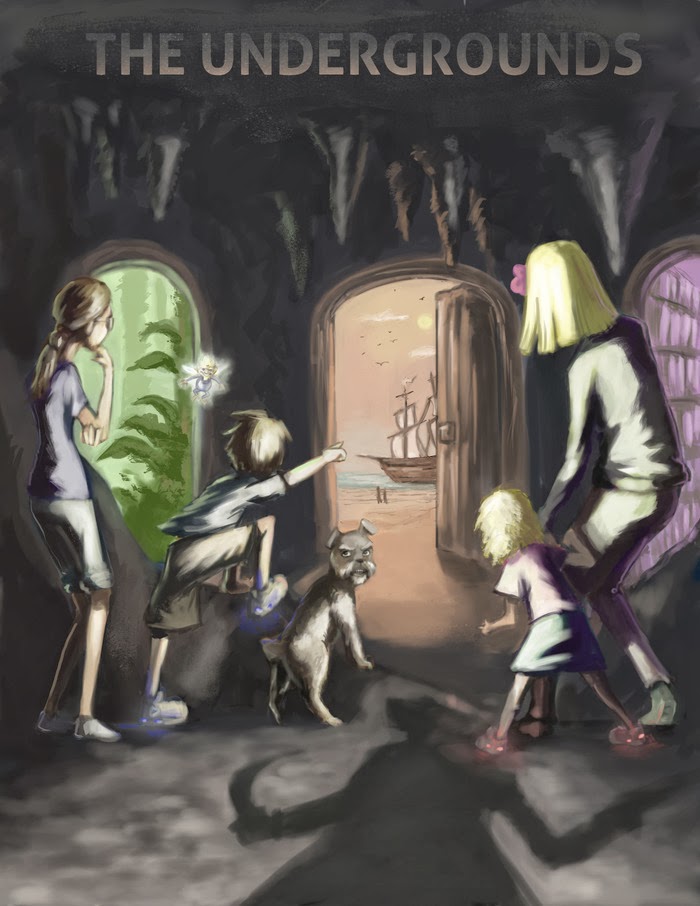 Goal: $5,000


Deadline: February 1


What You Get: For $5 you get the PDF of the 52-page first issue


Summary: A father brings his children's bedtime story to life with a friend's artwork as a comic series. Tunnels under a suburban home lead a family to a land of dangerous fairy tales. Just watch the video, and you'll see the charming story, not just of the comic, but of its creation.


Why You Should Back It: Because there aren't enough comics for kids in the world these days. You could start them into a lifelong habit of enjoying art and literature.
Face Art Every Day For An Entire Year
By Heather Bangerter
Kickstarter Link



What It Is: Pigment on the artist's face


Goal: $4,000


Deadline: February 13


What You Get: For $5 you can send her a picture of for her next day's face art.


Summary: In the video you'll see her face art of Vincent Van Gogh's Exploding TARDIS, and it's pretty awesome. If you look through some of the updates, you'll see some other cool face art based on other pictures and paintings, like the Na'vi in Avatar. She eventually hopes to do face paint for people at Comic-Con and to do video tutorials.


Why You Should Back It: Because creativity! It's nice to see people being creative in nontraditional mediums.
Icarus: A Graphic Novel
By Silence in the Library Publishing
Kickstarter Link


What It Is: A graphic novel, 80 pages


Goal: $8,000


Deadline: February 12


What You Get: For $5 you get the ebook of the original novel (not the graphic novel), listed in thank you of the graphic novel, and a digital wallpaper of the graphic novel cover art.


Summary: A novel by Gregory Wilson, host of the Speculate! podcast, will be translated into graphic novel form. A being falls from the sky to save a world from tyranny. In the updates section, you can see the artist doing a live stream while he colors the cover and a link to the author's AMA on reddit.


Why I Backed It: I really admire Gregory Wilson's devotion to the genre. The author has given so much to the SFF community by hosting the Speculate! podcast for so long, and I'd like to see his work come to life.


Why You Should Back It: Because it sounds like the story is going to explore some interesting themes, and with some neat artwork to bring it to life, it will be even more fun to read.
WOMEN DESTROY SCIENCE FICTION!
By Lightspeed Magazine
Kickstarter Link


What It Is: A special issue of Lightspeed Magazine featuring SF written by women


Goal: Surpassed (you can still back it to get the great perks!)


Deadline: February 16


What You Get: For $5 you get an ebook of the issue plus three back issues and acknowledgement of your support.



Summary: Mary Shelley wrote the first science fiction novel (Frankenstein). Yet some readers seem to have this funny idea that women don't—or can't—write science fiction. This issue is completely written and edited by women, with 15 short stories, 2 novellas, up to 10 flash fiction stories, author spotlights, interviews, essays, and more.


Why I Backed It: As a female science fiction writer, this subject is obviously of particular interest to me. For a genre that is so heavily focused on the future, we are still so mired in backwards thinking. I hope this issue will help inspire more women to speak up about their love for the genre, and not be afraid to say they write in it, too.


Why You Should Back It: Because Lightspeed publishes amazing science fiction and fantasy stories, and since the goals (including a stretch goal) are already surpassed, you're guaranteed to get some great stuff! Check out the stretch goals to see if you want to fund higher tiers now that they include bonuses.
What's the most interesting perk you've ever seen listed on a Kickstarter? Leave a comment below or find me as +Traci Loudin on Google+.
Share this post: