I had a great time at Dragon*Con and collected a ton of great writing tips, which I'll share in the next few posts.
+David Dorian Granruth
and I also hung out and took about a million photos of cosplayers, and we also saw the Lost Girl cast and a panel with Jayne and Shepherd Book from Firefly. We also went to some fun fan panels for Lost Girl, Continuum, and Agents of S.H.I.E.L.D., where we speculated with other fans about what's to come in future seasons.
While we were at the Westin, we saw a platoon of uniforms clearing corners and generally acting like soldiers in an active war zone. I was vaguely amused, but then an Alien came out of nowhere and started slaughtering them! It was the most fun LARP I've seen. Photo time afterwards: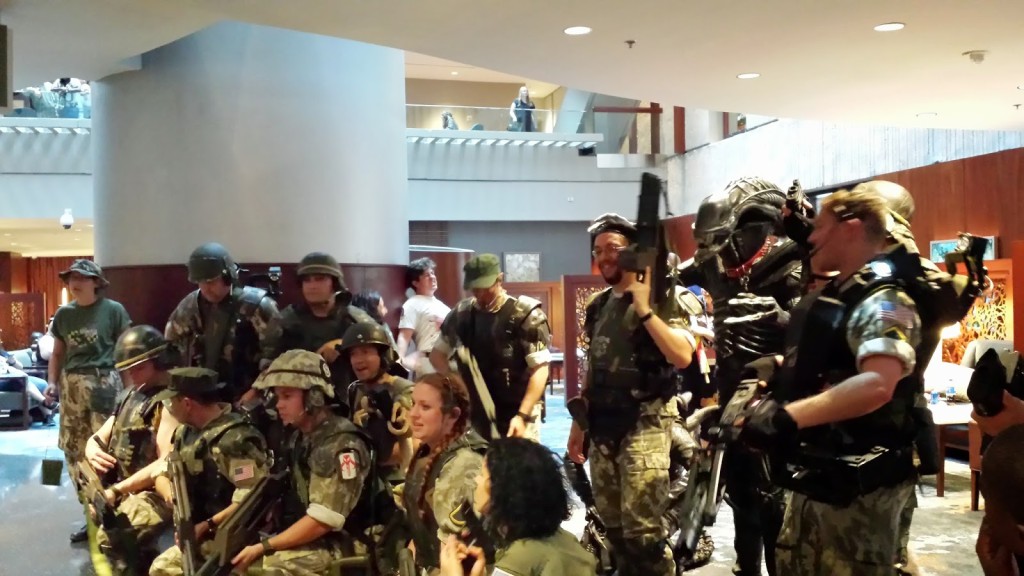 Soldier cosplayers and the Alien that slaughtered them at Dragon*Con
It goes without saying at Dragon*Con, but we saw, oh, a couple thousand AMAZING costumes. And we participated with a little steampunkery. But mostly we just tried to take it all in, this being our first Dragon*Con and all.
And the dealer room… my god, it's full of stars… Let's just say we spent everything in the budget and then some.
This post is first in a series where I share the wisdom from the science fiction and fantasy authors who lectured at Dragon*Con 2014 in Atlanta, Georgia over Labor Day weekend. Clicking on the topics in Part 1 below will jump you down to those sections.
Panelists: Debra Dixon, Claire Eddy, Diana Gill, Laura Anne Gilman, Georgia McBride, Samantha Sommersby
This was an all-female panel with a variety of writers and editors, including Jim Butcher's editor. What is urban fantasy? It's usually set in our time, +/-10 years. Writers should establish setting as a character. Voice is essential, which is why first person is so common.
In the 80s, horror was hot, but the market quickly became saturated. In the 90s, many horror writers moved to thrillers. Urban fantasy's roots are in the romance genre. Fans crossed over into paranormal romance, and then delved into urban fantasy. So UF often features romantic subplots.
However, while romance often dominates PNR, UF often features "happily right now" or may not need a romantic subplot at all. The panelists recommended that writers work the edges of urban fantasy and get over sexy shapeshifters. Vampires and werewolves are at 20% of 2012 numbers.

Tons of UF are mysteries, capers, private investigators. The panelists recommend writers branch out and read mainstream fiction, not just urban fantasy. Comedy is hard to pull off, but it could be a niche. Weird West is growing in popularity.

UF's future may be diverging from the urban. Charles de Lint revitalized the genre, but his work tends to be categorized as contemporary fantasy. Lev Grossman's The Magicians.
Panelists: Debra Dixon, Chesya Burke, Claire M. Eddy, James A. Moore, Janny Wurts, Clay & Susan Griffith
Goal, motivation, and conflict help create a strong plotline. Main characters need to stumble and fail; they shouldn't succeed at everything they try. They need to deal with failure and the unexpected.
Scrivener, index cards, sticky notes, spreadsheets, graph paper — use anything you can to keep track of huge plotlines. My own process is very similar to what one of the panelists mentioned: Put characters and factions at the top of a spreadsheet with time going down and fill it in.

Writing a novel in 3 weeks helps you keep track of your plot. On the other hand, another panelist recommends working on multiple stories at once so that when you get stuck, you can let your subconscious work on it awhile.
How to Get out of a Bind
Write yourself a note that something's messed up and continue writing. Track what's at stake. Dialogue stops the action, so know when to use dialogue versus narrative. Do the scenes address what the book is supposed to be about?

For your first draft, speed through without slowing down. You can figure out what to do about the fact no one's eaten in 7 days on your revision pass.
Ending a Plot
Zelazny had a publisher that chopped a Chronicles of Amber book in half and ruined the plotline. Every book should have a beginning, middle, and end, even in a series. Leave threads, but wrap it up. The best way to leave a cliffhanger if you want one is to end the book and resolve the plot, and put enough of the next book at the end to leave it on a cliffhanger.

Somewhat off topic, but the panelists mentioned that menopause, loss of a loved one, and depression can all have a terrible impact on your creativity and cause changes in your process. You think you'll never have another great idea.
Were You at Dragon*Con?
Did you go to Dragon*Con? Leave me a link to your awesome cosplay photos. C'mon, I know you gots 'em.
This post is first in a series where I share the wisdom from the science fiction and fantasy authors who lectured at Dragon*Con 2014 in Atlanta, Georgia over Labor Day weekend. Clicking on the topics in Part 1 below will jump you back up to those sections.
Find me as
+Traci Loudin
on Google+, the perfect place for fans of science fiction and fantasy to hang out.
Share this post: