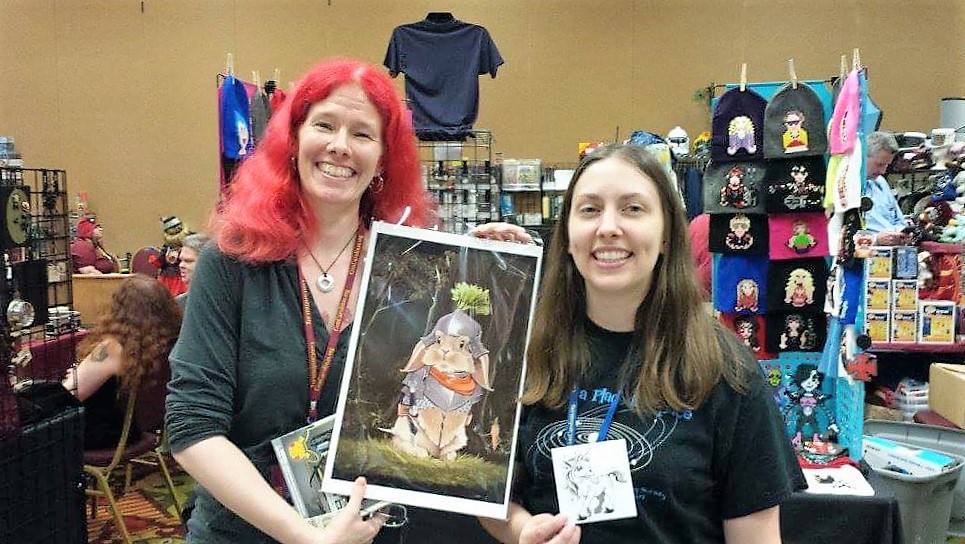 Welcome back! This is part 2 in my ConCarolinas 2016 series. Go back to Part 1 for a summary of my second ever author reading, the writers and mental illness panel, Marvel on the Small Screen, Mystic Pregnancies and Magic Babies panel, The Author Dating Game, Epic Questing and Sharp SF. Next week I'll also share some of my own reflections on where my author career is going.
Let's dive right into some awesome writing advice on trilogies, brilliant marketing tips, and ideas on how to write a satisfying ending!

Part 2 Table of Contents
The Trouble With Trilogies
Panelists: Sharon Stogner, Jim Bernheimer, David B. Coe, Darin Kennedy, Faith Naff, J. Matthew Saunders
There was some discussion around which genres do best as trilogies versus series (generally four or more books). David B. Coe suggested that urban fantasy lends itself to series because they tend to be around mysteries. Trilogies are most common in epic fantasies.
As for how to release a series, the general wisdom is to release a book about every 60 days.
Endings and Cliffhangers
Each book should have some sense of closure. Robert Jordan's Wheel of Time series made some readers impatient not because they were long but because they lacked a sense of progress.
Faith said, "Don't bank on a cliffhanger." If readers didn't like the characters that much, a cliffhanger won't keep them reading.
Darin gave the example of Empire Strikes Back. The movie has closure, but it ends with Han in carbonite. It's a "for now" ending that requires a sequel but is satisfying for now.
Matthew suggested leaving loose threads rather than cliffhangers.
Faith also mentioned that a great ending could be a twist, or shocking ending. It becomes "Oh god where could they go from here" NOT "how will this resolve."
So all in all, each installment of a series should have achieved something.
Forgot a detail from a previous book? Sharon suggested asking your Facebook followers to answer your question about Book 1 and you'll give them Book 2 free. It's a win-win: You don't have to find the answer, and you've engaged a devoted reader!
Effective Marketing for Writers
Alexandra Christian, Tyffani Clark, Gail Z. Martin, Jim McDonald, Jay Requard, Sharon Stogner, Melissa Gilbert, John G. Hartness, Stuart Jaffe, Beth Revis
I'm combining my notes for these two panels because they were similar. The panelists were spitting out so many ideas so fast I stopped being able to attribute them, so please note that all the above panelists were equally brilliant with their tips and advice. 😉
Philosophy
But first, let me convey the panelists' marketing philosophy… Building a fanbase is more important than today's sale. You want someone who will buy EVERY book.
It generally takes 5 "touches" to get a reader. They need to see something from you 5 times before they're paying enough attention to actually go after it.
Which is why most marketing isn't that measurable. Facebook Ads do have a lot of metrics, but most advertising isn't that helpful.
Remember the usual sales rule that people buy things from people they like.
Your Author Blog
Do a Fast Five. Your five favorite superhero movies, etc. End by asking a question. Show readers a few examples of how ideas came to you to head off the inevitable, "Where do you get your ideas?" question.
While traveling, do some video clips of you in your setting. Readers are really interested in what inspired you and where you imagine your setting if it's in the real world somewhere.
Social Media
When explaining why Facebook is so important for authors, Gail said, "If a good portion of the world's population resides there, you have to pay attention to it."
Never friend someone and then immediately say, "Buy my book!" Automatic DMs are rude. However, if you're making contact with a book blogger, there is a tactful way of approaching them about reading your book right away.
Book Bloggers
Sharon runs a great author marketing and editing site called I Smell Sheep. I was surprised to learn that book bloggers pay attention to Tuesdays because that's when traditional publishers release books. Book bloggers always appreciate being thanked for reviews on social media because it acts as co-advertising for them.
Ad Sites
Pay attention to each ad site's requirements. Bookbub won't do multiauthor box sets. AuthorCave won't do $1.99. Ads aren't as effective without a series because the first book acts as a loss leader.
Retailers
For readers 18 – 39, iBooks may be your best retailer. Mobile is so important to let people read your book, blog, and newsletter. Everything must be mobile-optimized for today's generation.
Become an affiliate with each retailer. You'll earn extra income.
On your website, list IndieBound before Amazon to court indie bookstores. You can also be an affiliate with IndieBound.
Book Depository ships internationally for free!
Multiauthor Promotion
Many of the authors on this panel were involved in a box set for $1.99 called Modern Magic. (Get 12 full-length Urban Fantasy, Horror, and Science Fiction novels for two bucks!) They tried to get authors from various geographic locations but similar genres to reach the widest fan base possible. This is a very viable marketing technique right now, especially if you can put the first book of a series in the set. But you'll need a good organizer.
Giveaway contests with other authors can also be a good strategy. 10 authors, 10 signed books. Readers like the exclusivity. To enter, they must like and follow all the authors posts. You could also have them reshare a post, like a post advertising your preorder… (Genius!)
Don't give away a gift card, because you'll get a lot of non-readers entering.
Do chapter swaps with other authors in your genre. You put Chapter 1 of their book in the back of yours, and vice versa. This helps you get into each other's Also Bought as well and you'll build your backlist.
Swag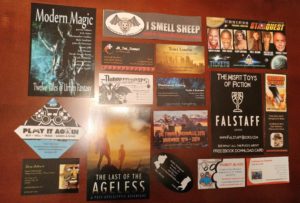 Postcards can be useful to summarize all your books. Also put a reminder on there to leave a review and sign up to your newsletter. Never know when your reader may take another look at it.
A small business card can link to a free short story on Google Drive or BookFunnel. Give your freebie to con-goers when they buy the paperback. Or let them pay for the ebook and give them the business card in return to download later when they have time.
Keep in mind it may not be worth it to print a 60-cent download card for a 30-cent short story, but it may be worth it for a $2.99 novel you're selling to con-goers.
Buttons definitely aren't worth it. Stickers are cheaper. Leave space to sign your bookmarks for kids who can't afford to buy your book.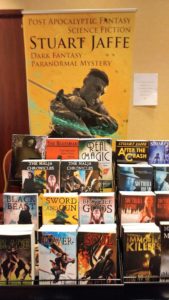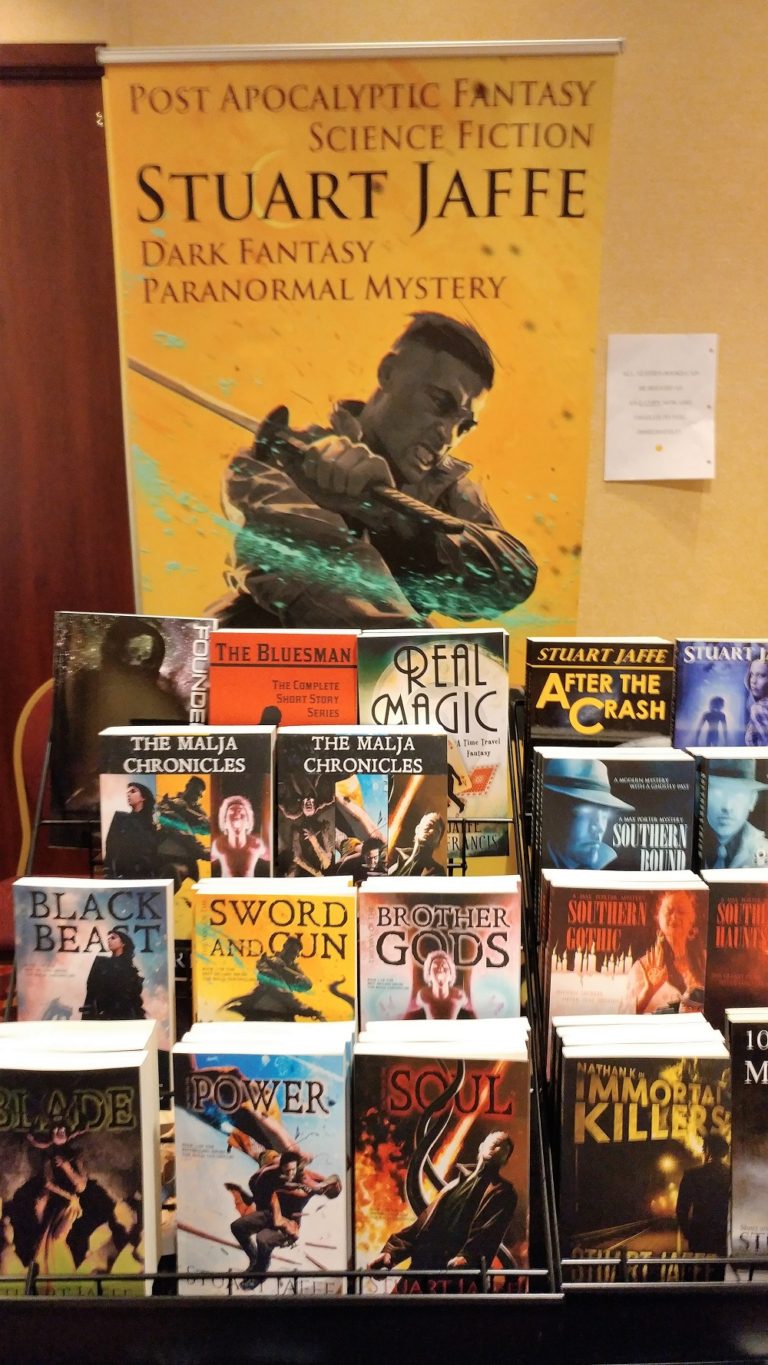 T-shirts may not be worth selling, but they can be fun for your street team in a limited run. You can technically put a design up on Zazzle for fairly cheap, but it needs a really good graphic to sell. You don't have to keep inventory, but it still may not be the best use of your time. It's such a fringe segment of your own audience, so writing time is more important.
You may not need a giant banner for smaller cons, but it's helpful for giant ones like Dragon*Con. Keep in mind the banner is just to grab attention, not to convey information. Don't stuff it with text!
Newsletter
Gail noted that Charlie Strauss is now doing a separate newsletter just to his publishers. He tells them what he's doing and asks how they can pile on. And it can help guilt-trip different publishers to working together with you!
At the end of your free first book, add a link to your newsletter. Tell readers they can get Book 2 free if they sign up to your newsletter. Stuart recommended BookFunnel, which will handle delivering those free books with little hassle.
Bookstores and Readings
Readings are boring, but more fun if you do them with other authors. Do a Q&A panel, trivia for 10 minutes, signing. These are really more about maintaining a relationship with the bookstore staff so they hand-sell for you later. You'll also meet other authors and have wonderful conversations. You'll find colleagues and die-hard fans. But in general, you won't make many sales.
Balancing Writing vs. Marketing
Balance what you have time to do. Your writing priorities should be:
Write the book
Send your newsletter
Write a blog post
Other Author Marketing Resources
The End of It
Panelists: Melissa Gilbert, Tyffani Clark, Darin Kennedy, James Maxey, Allen L. Wold
SPOILER ALERT! Since this panel is about endings, there may be some spoilers…
The panelists started by talking about some endings that didn't work for them. Stephen King's Dark Tower series made the list because although the gunslinger has been following the man in black for 6 books, he's not the one who ultimately kills him. Allen said that throwing away the emerald at the end of the Titanic invalidates the whole story.
The point is that endings need to bring about some kind of change in the character or the world. And the next book in a series shouldn't invalidate the previous book.
Naturally, Neil Gaiman's Neverwhere is one of the best. He returns to the real world and realizes he preferred being in danger all the time in the other world. He thinks he can't return, and then hope is restored.
Throughout the story, you're promising something to readers. But if you directly fulfill it, it's somehow disappointing. The best endings feel inevitable yet unanticipated.
Characters should pursue false solutions throughout the book. Wizard of Oz: If you kill the witch, you'll go home. Mad Max: find the mothers in the green place.
It's good to have an idea of the ending at the start, but don't be afraid to pivot and go somewhere else if the story calls for it. Deciding your tone is a big part of doing the right ending as well.
"You sell your book based on the 1st chapter. You sell your next book based on the last chapter." -Allen Wold #ConCarolinas

— Traci Loudin (@TraciLoudin) June 5, 2016
The End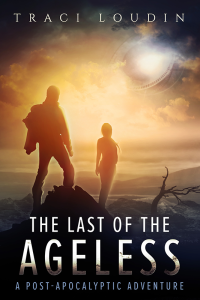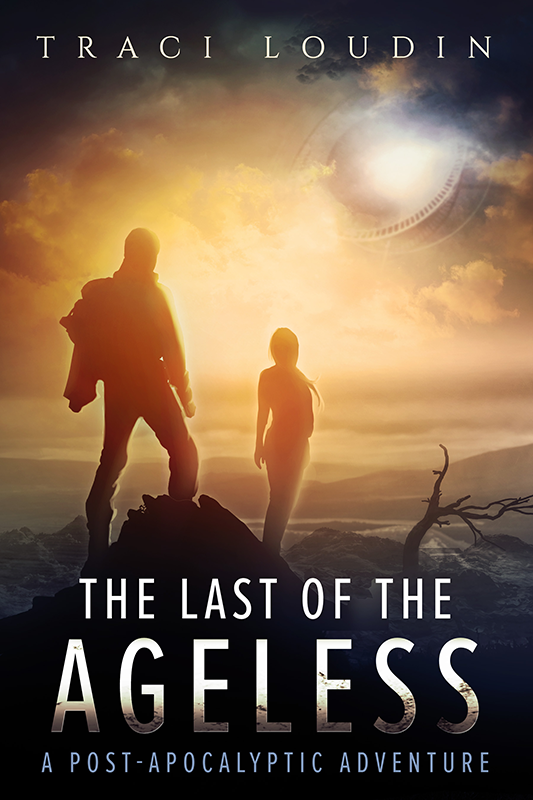 If you found this post helpful, please feel free to pay me back with some good link karma by sharing this post or buying The Last of the Ageless! You can also support my author career as part of the Ardent Alliance and get behind-the-scenes peeks at what I'm working on.