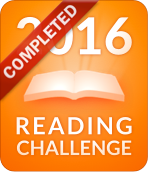 2016 is suddenly over, which means it's time for ye olde annual post about goals. What awesome stuff did you accomplish this year?

Table of Contents
2016 Writing Plans vs. Reality
I have big plans for 2017, but first let's take a look at what I accomplished in 2016…
Finish 1st pass edits on Seasons Book 1 — done!
Send Seasons Book 1 to Angry Robot Books open submissions — done!
Finish Book 2 to inform further edits to Book 1 — I started writing Book 2, but didn't finish it before I realized what changes I needed to make to Book 1
Assume Angry Robot didn't pick it up and send Book 1 to beta readers — done!
Finish Book 1 revisions from beta readers and Book 2 first pass edits — still in progress
Send Book 2 to beta readers and outline Book 3 — now targeting July 2017
Wrap up other edits, beta reader revisions to Book 2, etc. — now targeting November 2017
A Note About Angry Robot Submissions
For anyone looking to publish with Angry Robot, I highly recommend their open submission periods. Though they said they'd get back to everyone within 6 months (August 1, 2016), that ended up being overly ambitious. I didn't get my rejection email until October 3, 2016. So if you ever submit through their open door submissions, keep that in mind and be patient.

Long before August I knew they wouldn't accept it because I'd already started doing HEAVY revisions to the book. The book I pitched them wouldn't have sold, whether published by them or me. By the time I got their rejection slip, I'd already cut out all the chapters I'd submitted to them thanks to advice from my writing critique partners and beta readers.
It's not even the same book now. Speaking of which, if you'd like to join me for the final round of beta reading, it starts soon!
[button url="https://www.traciloudin.com/reader-signup"]Join the Beta Readers[/button]
2017 Writing Plans
Jan: Send Book 1 back to beta readers
Feb: Finish writing Book 2 by March
March: Final revisions from beta readers on Book 1
April: Begin first pass editing on Book 2
May: Send Book 1 to editor
June: Second draft of Book 2
July: Edits and final pass of Book 1
August: Beta reading of Book 2
September: Revisions from beta readers on Book 2
October: Send Book 2 back to beta readers & format Book 1 for publishing in January
November: Final revisions from beta readers on Book 2
December: Book 2 to editor, begin Book 3 prewriting
Here we go!
Publishing Plans
Assuming I can accomplish the writing goals I've outlined above, here's the publishing plan:
Book 1: January 2018
Book 2: April 2018 or so
Book 3: Late fall 2018
Book 4: January 2019
It's going to test all of my patience not to publish Book 1 any earlier, but I want to release all 4 books fairly close together.
Want to read Book 1 before January 2018?
Become a beta reader to read Book 1 this month, Book 2 in August 2017, and Book 3 earlier in spring 2018. Give me the valuable feedback I need to improve the books before they're published, and I'll thank you in the Acknowledgments of both the ebook and the paperback editions!
[button url="https://www.traciloudin.com/reader-signup"]Join the Beta Readers[/button]
Or you can support me on Patreon as part of the Ardent Alliance. For just $1 a month, you'll get the final ebooks with their final covers earlier than anyone else and all this other great stuff!
Behind the scenes info about what I'm working on, my writing routine, research behind the writing, and whatever else you'd like to know!
Trivia, desktop backgrounds, and social media headers of each series
Fun surveys, polls, and personality quizzes
Previews of cover concepts and final cover art
Excerpts of my work in progress (unedited)
Deleted scenes from my work in progress (unedited)
Short stories before I officially publish them
Mobi (Kindle), epub, PDF formats of all final, edited novels before I officially publish them
[button url="https://www.traciloudin.com/ardent"]Join the Ardent Alliance![/button]
2016 Reading Plans
You can see the books I read in 2016 here, in no particular order. Here's my 2016 Year in Books on Goodreads. I read SO MANY awesome scifi and fantasy books! Here's a breakdown of my reading list:
2017 Reading Plans
2017 will be the Year of the Indies! Actually, since I finished most of my 2016 reading early, I started Year of the Indies earlier in 2016 with books by Pauline Ross, L.J. Cohen, C.J. Brightley, Calandra Usher, Mark Gelineau, and John G. Hartness. Many of those are authors I know either in real life or as online friends, and I'm proud of their awesome stories!
Here are some more awesome things I plan to read this year:
Follow along on my 2017 Reading Challenge on Goodreads.
What are your reading plans for 2017? Sign up to get the latest news here. You can even tell me you don't want to hear from me until Book 1 is out!
Other Goals
And last but not least… In 2016 I suffered from some back and neck issues, mainly due to sitting around at a keyboard all day at my day job and again all night. After being unable to turn my head for a few weeks, I ended up in physical therapy for several months.
So I need to keep at my physical therapy, use my standing desk more often, and do some exercise!
Previous Related Articles
In reverse chronological order