Celebrating International Read an eBook Day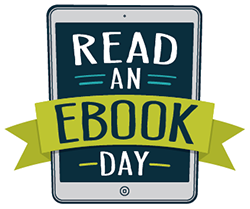 Did you know September 18th is International Read an Ebook Day? You can follow the slightly awkward hashtag #readanebookday on social media to read all about it. (Am I the only one who reads that as Read a Nebook Day?)

Apparently OverDrive originally thought up the day to celebrate ebooks. Now they've got a new app called Libby that lets you download or stream ebooks from your library. It has cool features like letting you push the ebooks to your Kindle app to read if you prefer. Go watch the video!
Your library may let you download The Last of the Ageless and the companion short stories using Libby and Overdrive. Or you can get it for $2.99 for Kindle.
Directed by his tribe's belief in the Ancient Teachings, Dalan saved the life of a fellow shapeshifter, only to learn she didn't need rescued at all — quite the opposite — Nyr deserved to die.
Buy the eBook (See All Retailers)
Read the first 3 chapters on any device. Or, if you insist on paper, buy it locally here!