Last Tuesday, I had my first ever appearance as an author! It was terrifying and exhilarating.
Homecoming
I graduated from Buckhannon-Upshur High School in 2003, so this event was a homecoming of sorts for me. I'd only been back once or twice post-graduation to pick up my siblings, but I knew to expect the odd mixture of familiarity and strangeness. So many things had changed, and yet so many remained the same.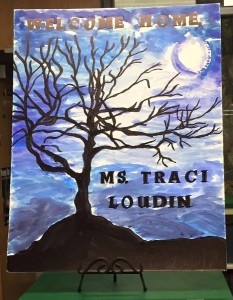 A few of the same: My former sophomore English teacher, Miss Cupp, brought some of her students in to hear me speak. And my former creative writing teacher, Ms. Ramsey Boyce, also brought her students in. Before the event, Ms. Ramsey Boyce had contacted me to tell me that she was reading my book and that so much of it seemed familiar. So although I have no doubt I've grown as a writer over the years, my voice is apparently much the same!
I was greeted by this wonderful hand-painted poster based on the cover for When All Is Lost. It's a very close representation of it! I'm amazed at the level of detail, and extremely flattered that Ms. Wager, the art teacher, would take the time to create something like this for me. It now resides in my office so I can see it while I write.

Inspiration, Creativity, and Criticism
I did my best not to make the hour-long discussion completely about me or the book. So while I shared a little about the story behind my writing of The Last of the Ageless, I tried to relate it back to the students and how they might kindle creativity in their own lives.
It's difficult to be creative when you allow other people's negativity to impact you and get inside your head, so I tried to sympathize and suggest ways to overcome that. I also talked a little about the difference between criticism and constructive criticism, though thinking back, I wish I would've tied that theme together a little more clearly.
Fortunately, I'd planned three segments to my speech, as I ended up having to tailor it since every class block ended up being a different length. In every block I spoke about creativity and criticism. I also talked about inspiration and how dreams can sometimes give you awesome ideas, and in most blocks I read them a dream of mine I'd written down from a few days ago.
In one block I had plenty of time, so I also passed around photos from my steampunk wedding and talked about not letting other people's opinions get in the way of expressing your creativity.
Here's a photo of me, reading from The Last of the Ageless. For weeks I stressed over which scene to read, and finally decided the first scene would be best, since all other scenes rely so heavily on what came before them.
I've never read any of my own writing out loud, so I concentrated really hard on not losing my place. Which meant I made almost no eye contact during the reading part. Oops. (I'm terrible about eye contact anyway.)
Books, Post Cards, and a Gift Card
To make things interesting, I gave away an Amazon gift card. I asked that anyone who was interested write down their email addresses so I could personally email the winner the gift card. Everyone else has already received The Last Tail-Horse and will receive my other short stories for free over the coming weeks. The winner was announced the day after the event.
In addition to any books I hadn't sold and signed for friends and family over the Labor Day weekend, I also brought post cards. On the front is the novel's cover, and the back has a brief blurb and tagline. I left space to sign my name. Then anyone who didn't buy a book could still get a signed post card if they wanted one. It was nice to have something I could give away to every person who came to see me.
To my surprise, I sold completely out of the books I'd brought. I'm now in the odd position of having no copies of my own book in my own house!
The students asked a lot of really great questions. I could definitely tell some of them did their research because they asked me things only revealed here on my blog… I hadn't really thought to rehearse answers to questions, so I definitely tripped over a few, but I don't think I embarrassed myself too badly.
Being the center of attention is weird. I'm not sure I'm cut out for the whole public speaking thing, but I enjoyed it while it lasted! And it's always nice to have a captive audience. Mwah wah wah.
Are you a BUHS student or teacher?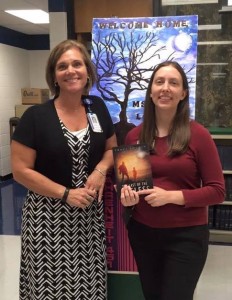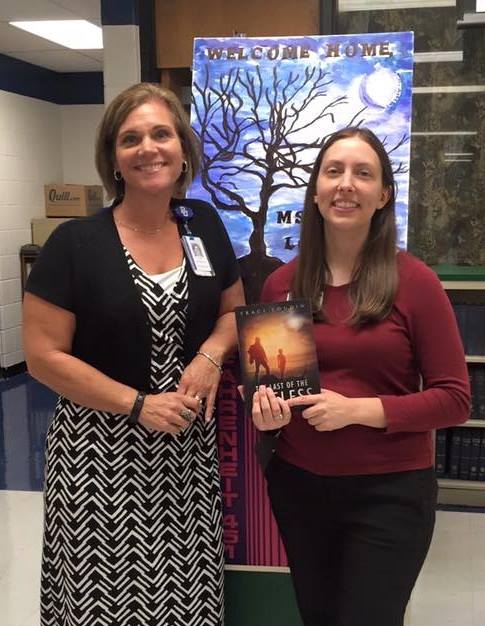 Please thank Ms. Angie Westfall for putting on this event. She really made it a welcoming experience for me, and I appreciate all the work she put into it! You should also thank Ms. Crystal Jones for suggesting it and getting the ball rolling.
I'd love to get your thoughts on the event in the comments below! Please feel free to reach out via email to [email protected] or via social media (see the tiny icons at top/bottom of my site) anytime now or in the future.
You can also still sign up to receive 4 short stories FREE via email if you missed the sign-up sheet while I was there.
Thanks so much for indulging me, and it was great to meet you all!